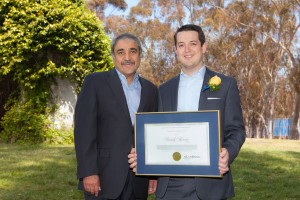 Congratulations to this year's recipients of the UC San Diego Academic Senate Distinguished Teaching Award.  The prestigious award is bestowed upon faculty and graduate students to honor teaching excellence.  Recipients are selected for their creativity, innovative teaching methods, ability to motivate students and commitment to teaching.  At the annual awards ceremony today at the Faculty Club, Chancellor Khosla congratulated each awardee and commented that it is because of our amazing achievers – like our honorees – that UC San Diego has become a world-renowned public research university in only five decades.
Prof. Mercier's award nomination read:
"Patrick Mercier is an exceptionally talented engineering teacher, mentor, researcher, and colleague. The following characteristics have been used to describe Professor Mercier and what makes him an outstanding teacher: abundance of enthusiasm to excite and motivate the next generation of learners; a deep understanding of fundamental concepts and their relation to practical applications; the ability to explain both fundamental and advanced concepts in various engaging ways; and a passionate commitment to help students learn. One student wrote, "Professor Mercier, as far as my own experiences have provided me, is the epitome of what an exemplary and passionate teacher can be. Through his highly effective teaching methods, his compassion and genuine care for his students, and his infectious passion for the teacher profession, Professor Mercier defines the concept of teaching excellence for me in every sense."
Prof. Mercier is the first faculty member in Electrical and Computer Engineering to win this award since Jack Wolf won the award in 1999.