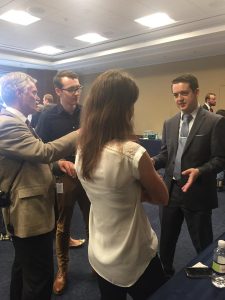 In the wake of the March for Science, scientists and science supporters worldwide are actively seeking ways to connect and engage with their political representatives, in hopes of bridging the gap between science and public policy.
Patrick Mercier, an electrical engineering professor at UC San Diego, got the chance to do just that at an event on Capitol Hill in Washington, D.C. He met with staff members working for representatives for San Diego County and for California Senator Dianne Feinstein. He also showcased research projects conducted under the umbrella of the Center for Wearable Sensors at the Jacobs School of Engineering at UC San Diego.
The event was the BioMedical Technology Exhibition hosted by the American Institute for Medical and Biological Engineering (AIMBE) in partnership with the Congressional Research and Development Caucus and the Congressional Robotics Caucus. Mercier was among a group of researchers to present their cutting-edge technologies to Congressional staff in the U.S. House of Representatives. The event took place on May 5, 2017.
Read more about this here.