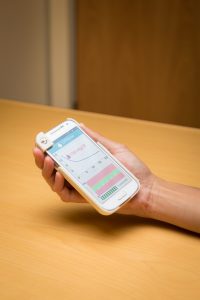 Engineers at the University of California San Diego have developed a smartphone case and app that could make it easier for patients to record and track their blood glucose readings, whether they're at home or on the go.
Currently, checking blood sugar levels can be a hassle for people with diabetes, especially when they have to pack their glucose monitoring kits around with them every time they leave the house.
"Integrating blood glucose sensing into a smartphone would eliminate the need for patients to carry a separate device," said Patrick Mercier, a professor of electrical and computer engineering at UC San Diego. "An added benefit is the ability to autonomously store, process and send blood glucose readings from the phone to a care provider or cloud service."
The device, called GlucPhone, is a new proof-of-concept portable glucose sensing system developed by Mercier, nanoengineering professor Joseph Wang, and their colleagues at the UC San Diego Jacobs School of Engineering. Wang and Mercier are the director and co-director, respectively, of the Center for Wearable Sensors at UC San Diego. Their team published the work in Biosensors and Bioelectronics.
You can read more about this technology here.